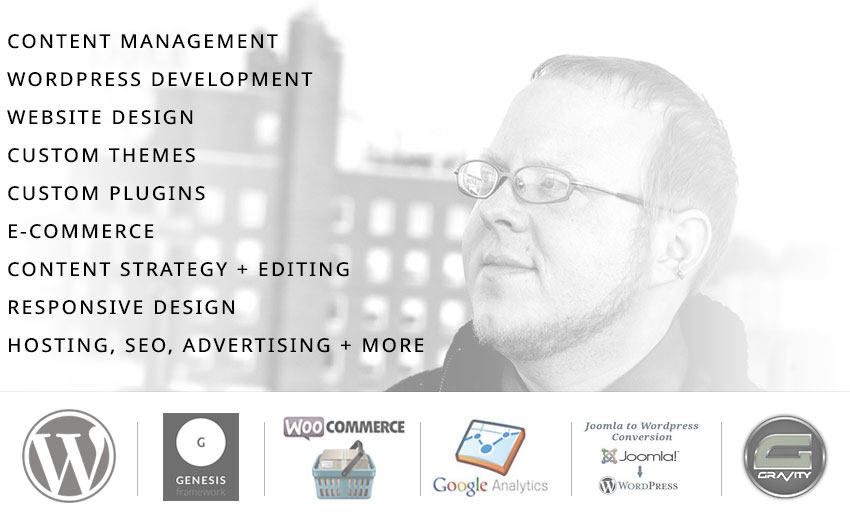 I am a WordPress website designer & developer in Columbia Missouri.
I build websites that are customized, secure, and easy for you to update and manage (no coding needed). When I develop your new website it will be compatible with all browsers and will adapt to all devices like smartphones and tablets. Your customers won't need to zoom in or out or scroll around to find things on your mobile-optimized site. Do you have an existing website that could use a face-lift? I can help you add new features and improve the look and feel.

Responsive Web Design
More and more people access the internet with their phone. How does your website look on a phone? I build websites that adapt to all devices using responsive web design techniques. Your website will automatically adjust to fit any screen. You can even simplify the mobile site so your customers can find what they need quickly and easily. Check out some examples of my responsive wordpress designs.

Easily Update Your Website
Need to make a change to your website and hate having to pay a web designer each time? The page editor in WordPress make editing pages painless. Edit a page, make the changes, click "Publish" and changes are saved immediately to the website. Adding pictures is easy too. Click "Add Media", browse to the picture on your computer, and and insert the image onto the page. Once the image has been uploaded you can choose several size options and WordPress will automatically resize your image for you. Awesome, right?

My Process
Contact me by filling out the form below and we will schedule a quick phone call or face-to-face meeting. Usually this initial meeting only takes 30 minutes to an hour. During this time I will get to know your business and discuss your website objectives. If you find that I am a good fit for you then I will assist you with setting up domain registration and web hosting. Next we will begin a discovery phase to ensure that I'm thorough in understanding your website needs. I will then work on a custom design and help you gather content or help you create content if needed.

Pricing
I like to think of a website like a house. Building a website can be as complex and sometimes even as expensive as building a house. So it can be nearly impossible to give you a quote without really getting down to details of what I will be doing for you.
The good news is that I've gotten pretty good at estimating time on projects. An estimate is based on what you and I will discover about your website needs in our initial conversations. A simple information website (not WordPress) could be as little as $800. A WordPress website (designed and coded) will range from $1,500 to $8,000. This price depends on whether your website will have custom functionality like an event calendar or an online store. Of course it is possible that some projects could be higher like $10,000 to $20,000.