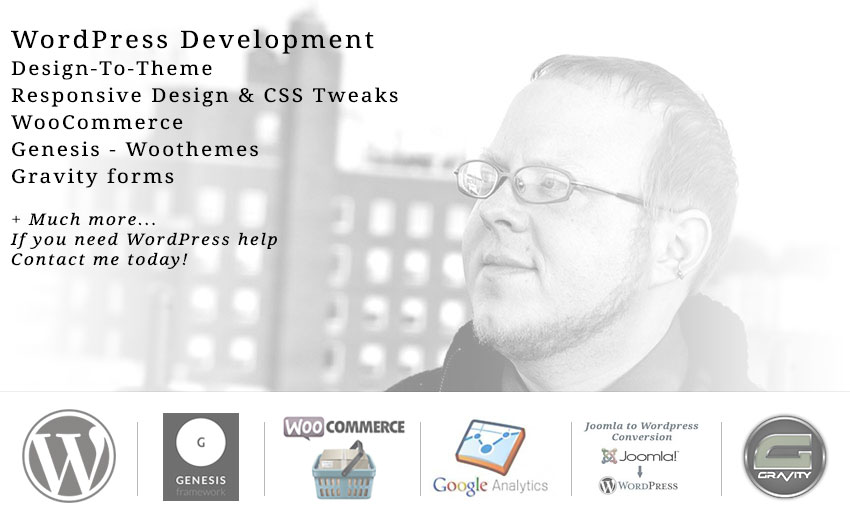 I am a WordPress Developer in Columbia Missouri.
I offer WordPress development services to design agencies, other freelancers, and businesses who already have a WordPress website and need assistance, new features, tweaks, or a new theme. I currently specialize in WordPress tweaks, full-service install and setup, responsive design, and design-to-theme. I work with any theme framework but prefer to service WooThemes and Genesis. Some of the plugins I most commonly work with are WooCommerce, Gravity Forms, and Event Manager.

WORDPRESS THEME SUPPORT SERVICES
Responsive Web Design
Using Responsive Web Design I craft WordPress themes to provide an optimal viewing experience across all devices. If you already have a theme that is not responsive I can convert it for you. Check out some examples of my responsive WordPress theme work.

Pricing
Since I offer a wide range of WordPress development services, pricing depends on the project. Contact me to discuss a per-project flat rate or to negotiate an hourly pay arrangement. Some examples of my fees:
Converting an existing theme to responsive, ~$500
Full design-to-theme development starts at $700
General WordPress tweaks: CSS, theme-related, plugin-related, etc… $100 – $300
WooCommerce installation, configuration, and coding a design starts at $500
A one hour consultation, less than $100.
These are only few examples of my services. More complex full WordPress development projects can range from $2,000 to $10,000 or more (not including the design).